Thursday, 15 August 2019 05:30
High Commissioner Austin Fernando calling on the Governor of the State of Andhra Pradesh Biswa Bhusan
Sri Lanka's High Commissioner to India Austin Fernando requested the Andhra Pradesh State Government to support and facilitate the expansion of Sri Lanka's investment "Brandix Apparel City" located in Vishakhapatnam, and liaise with Sri Lanka to develop tourism both ways. The High Commissioner made these requests when he called on the Governor of Andhra Pradesh Biswa Bhusan and the State's Chief Minister Y.S. Jagan Mohan Reddy during his visit to the State of Andhra Pradesh from 9-11 August 2019.
Read more...
Friday, 09 August 2019 06:28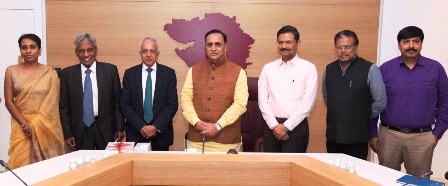 Sri Lanka's High Commissioner to India Austin Fernando and the Minister of Development Strategies & International Trade, Malik Samarawickrama, met the Indian Business Community at a Sri Lanka Business & Investment Forum held at the Gujarat Chamber of Commerce and Industry today (8) in Ahmedabad. The discussion centred on ways in which business could be developed between Gujarat and Sri Lanka.
Read more...
Tuesday, 06 August 2019 10:59
The South Asia Regional Council of the Federation of Chamber of Commerce & Industry (FICCI), Delhi organized an interactive session at the Federation House on 30th July 2019, with the High Commissioner of Sri Lanka to India, HE Austin Fernando, on "Strengthening Business and Investment synergies between the two countries and opportunities Sri Lanka offers to Indian Investors".
Read more...
Thursday, 01 August 2019 06:20
The concept" Bring a Friend Home by Cinnamon" initiated by the Cinnamon Hotels & Resorts would be participants of Sri Lankan origin living in Sri Lanka and expats living in Sri Lanka with resident visa, to invite and bring their foreign friends to Sri Lanka and be entitled for six special holiday packages with exclusive rates at Cinnamon properties from 30th July to 10th December 2019 and there will be raffle draws with attractive prizes for both parties to evoke more interest on this initiative.
Friday, 26 July 2019 04:26
With the initiative of the Sri Lanka High Commission, Ceylon Chamber of Commerce led a two day business promotion mission to New Delhi on 16th July 2019, to continue establishing business and trade links with industry leaders in the Northern States of India.
This business delegation comprised of six leading companies representing areas such as manufacturing, IT, logistics, construction, services, etc.
Read more...
Page 10 of 83