Tuesday, 21 April 2020 05:14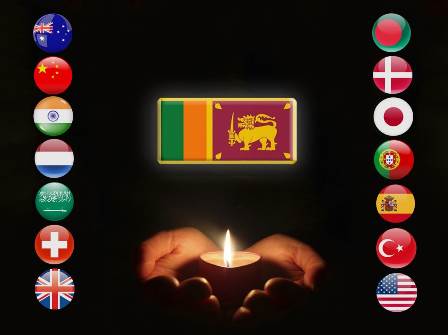 On this day, Sri Lanka remembers all those lives lost and changed forever in barbaric acts of violence one year ago. We share the grief of families who lost their loved ones and stand in solidarity with those countries which lost their nationals.
මීට වසරකට පෙර සිදුකළ ම්ලේච්ඡ ප්‍රචණ්ඩ ක්‍රියාවලින් අහිමි වූ හා සදහටම වෙනස් වූ සියලුම ජීවිත ශ්‍රී ලංකාව අද දින සිහිපත් කරයි. තම ආදරණීයයන් අහිමි වූ පවුල්වල ශෝකය අපි බෙදා හදා ගන්නා අතර, තම ජාතිකයන් අහිමි වූ අනෙකුත් රටවල් සමඟ එක්ව කටයුතු කරන්නෙමු.
ஓராண்டிற்கு முன்னர் வன்முறைகளில் இழந்த, பாதிப்புற்ற அனைவரையும் இன்றைய தினம் இலங்கை நினைவு கூர்கின்றது. தமது உறவுகளையிழந்த குடும்பங்களின் துன்பங்களை நாம் பகிர்ந்து கொள்வதுடன், தமது பிரஜைகளையிழந்த நாடுகளுடன் துணை நிற்கின்றோம்
Ministry of Foreign Relations
Colombo
21 April 2020
Saturday, 18 April 2020 14:39
The Government of India has conveyed the following notice to the Diplomatic Missions in India with regard to the extension of the validity period of the visas of foreign nationals who are stranded in India due to COVID-19:

"Regular Visa, e-Visa or stay stipulation, of such foreign nationals who have been stranded in India because of spread of COVID-19 in many parts of the world and also due to travel restrictions imposed by the Indian authorities and whose visas have expired or would be expiring during the period from 01 February 2020 (Midnight), to 03 May 2020 (Midnight), would be extended till midnight of 03 May 2020 on 'GRATIS' basis, after making online application by the foreigner. Exit of such foreign nationals, if so requested by them, will also be granted to them upto 14 days beyond 03 May 2020 i.e., 17 May 2020 without levy of overstay penalty."
Sunday, 12 April 2020 11:56
Several parties are eligible
Higher interest rates
Free from taxes and foreign exchange regulations
A new bank account termed Special Deposit Account (SDA) has now been introduced for all Sri Lankans living in and outside the country to remit their foreign currency earnings, savings and investments to any bank of their choice in Sri Lanka. It is in the form of Term Deposits either in any designated foreign currency or in Sri Lanka Rupees.
Read more...
Sunday, 12 April 2020 06:02
Monday, 06 April 2020 13:15
Foreign Secretary Ravinatha Aryasinha has outlined the role and preparations of the Ministry of Foreign Relations and its missions across the world, in helping Sri Lanka tackle the COVID-19 pandemic and addressing concerns of Sri Lankan nationals overseas. Referring to Sri Lankan citizens abroad, he said "parents here in Sri Lanka, should rest a little bit more comfortably about their children, knowing that the Embassy is a phone call away and if there are issues on the ground, that our Missions abroad will deal with it" and that "if there is a real calamity, the Government of Sri Lanka will step in". He said while dealing with the immediate concerns at hand, the Ministry and Missions are working hard "to anticipate and prepare for any difficulties ahead, and to further map out what we do the day after this problem is solved, particularly on the economic front".
The Foreign Secretary made these observations, in a wide-ranging interview with Indeewari Amuwatte, on the 'Hyde Park' programme of Ada Derana 24, on 4 April 2020.
Full interview is at : https://www.youtube.com/watch?v=zY1eD5c__h4
Below is the transcript of Foreign Secretary Ravinatha Aryasinha's interview with Indeewari Amuwatte on 'Hyde Park' on Ada Derana 24 on 4th April 2020 (Pl. note that some comments have been re-clustered under relevant headings)
Read more...
Page 2 of 83