Friday, 20 December 2019 07:44
Sri Lanka promoted a range of value added items including herbal personal care products, craft products, value added coconut products, value added handmade stoneware, floral arrangements, green vanilla, lace and embroidery items, spices, electronic security solutions at the India International Mega Trade Fair (IIMTF) being held at the Science City in Kolkata, West Bengal from 13 -23 December 2019. Sri Lanka's national participation was organized by the High Commission of Sri Lanka in New Delhi in association with the Sri Lanka Export Development Board.
Read more...
Saturday, 30 November 2019 03:51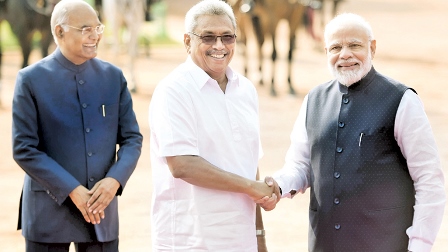 Ayubowan, Namaste,
I am very happy to be here just eleven days after assuming office as the President of Sri Lanka. In fact, this is my first official visit abroad.
Prime Minister Modi and I discussed several important issues this morning. The discussions were extremely cordial and reassuring. Among these, co-operation in regard to security of our two countries took priority. India has always assisted Sri Lanka to enhance our capabilities in intelligence, and counter-terrorism, and we look forward to continued support in this regard.
Read more...
Monday, 11 November 2019 12:34
Sri Lanka's High Commissioner to India, Austin Fernando was the Chief Guest at the "Khadi Fashion Walk" of All India Women's Education Fund Association (AIWEFA) held on 03 November 2019 at the North East Expo 2019 in New Delhi.
Read more...
Monday, 28 October 2019 11:40
The annual Katina ceremony of the New Delhi Buddhist Vihara was held on 26-27 October 2019 under the patronage of Sri Lanka's High Commissioner to India Austin Fernando, and with the participation of a large number of Sri Lankan and other Buddhists residing in the city.
The ceremony, led by the General Secretary of the Mahabodhi Society of India Ven. P. Seevali Nayaka Thero and the Chief Incumbent of the New Delhi Buddhist Vihara Ven. R. Sumiththananda Thero, commenced on 26 October evening with the opening of the newly constructed Bodhi Prakara and the shrine room of the temple.
Read more...
Friday, 11 October 2019 04:25
The e-biz platform www.nceebiz.com, to enable trading of Goods and Services Online is the latest service introduced by the National Chamber of Exporters of Sri Lanka. This Platform which is available for exclusive use by NCE Members will enable them to reach International Buyers, by creating awareness regarding their Products and Services. This cost effective method will enhance the avenues of promoting products and services through digital marketing and to access global markets and will enable the NCE member exporters to be abreast with competitors in the international market place.
Read more...
Page 8 of 84