Wednesday, 16 August 2023 05:50
High Commissioner of Sri Lanka to India Milinda Moragoda who is on a two-day official visit to the State of Maharashtra unveiled a portrait of St. Joseph Vaz, the 'Apostle of Sri Lanka' at the Archbishop's House in Mumbai in the presence of Archbishop of Bombay, His Eminence Oswald Cardinal Gracias today (14).
The High Commissioner and the Archbishop of Bombay had an exchange of views pertaining to the close religious ties between Sri Lanka and India and particularly on the ways and means to promote people to people contacts through interactions between the Catholic communities in the two countries.
Sri Lanka's Consul General in Mumbai Dr. Valsan Vethody was also present on this occasion.
Read more...
Thursday, 27 July 2023 09:26
Sri Lanka's High Commissioner to India Milinda Moragoda attended a closed-door panel discussion organized by the Indian Council of World Affairs (ICWA), New Delhi on 'Economic Recovery of Sri Lanka & Visit of the President of Sri Lanka H.E. Ranil Wickremesinghe to India' as the lead speaker on Wednesday (26).
Opening his remarks, the High Commissioner stated that the Sri Lankan President thanked the Indian Prime Minister and his government for the financial assistance rendered during the recent economic crisis which served as the lifeline towards laying the critical initial steps towards economic stabilization. He also stated that the future India-Sri Lanka cooperation would mainly focus on connectivity and investment which will be founded on a vibrant economic integration strategy.
Read more...
Friday, 07 July 2023 04:36
Continuing his discussions with senior Indian private sector figures, Sri Lanka's High Commissioner to India Milinda Moragoda held a meeting today (6) in New Delhi with the President of The Federation of Indian Chambers of Commerce and Industry (FICCI) Subhrakant Panda. Mr. Panda, who is also the Managing Director of Indian Metals & Ferro Alloys Ltd (IMFA), India's foremost fully integrated producer of value-added ferro chrome, engaged in a fruitful discussion with High Commissioner Moragoda.
Mr. Panda and the High Commissioner of Sri Lanka discussed a range of issues pertaining to possible cooperation between FICCI, Trade Chambers in Sri Lanka and the Sri Lanka High Commission. The High Commissioner provided Mr. Panda with an update on the assistance provided by the Indian Government during the economic crisis. Moreover, he underscored Sri Lanka's current state of readiness to embrace large-scale investments from India. Mr. Panda shared valuable insights into FICCI's rich history spanning 96 years, highlighting its vast network that encompasses not only India's largest companies but also small and medium-size enterprises (SMEs).
Read more...
Friday, 30 June 2023 13:19
Sri Lanka's High Commissioner to India Milinda Moragoda inspected the ongoing renovation work at the Sri Lanka Buddhist Pilgrims Rest (SLBPR) situated in New Delhi on Thursday (29).
On identifying the urgent necessity to renovate the existing SLBPR building premises to offer a better service to a large number of Sri Lankan as well as pilgrims from other countries visiting India to pay homage to the sacred places of worship in India, the High Commission initiated the much-needed renovation work to the existing SLBPR infrastructure facilities.
Read more...
Monday, 26 June 2023 12:36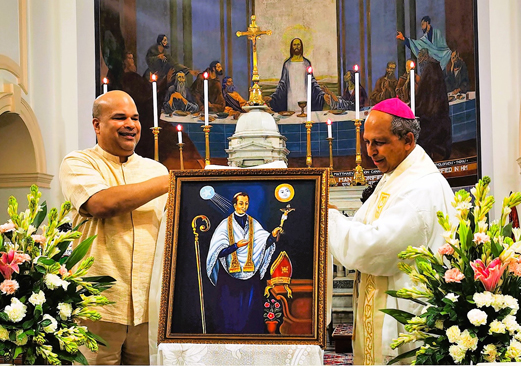 In taking forward efforts to further expand the dialogue with leading faiths in India, a thanksgiving prayer was organized by the Sri Lanka High Commission in New Delhi at the Sacred Heart Cathedral today (23).
Sri Lanka's High Commissioner to India Milinda Moragoda, Mrs. Jennifer Moragoda, and officials of the Mission attended the thanksgiving prayer which was conducted by the Archbishop of Delhi, Most Reverend Anil Joseph Thomas Couto.
Read more...
Page 4 of 109