Thursday, 16 January 2020 10:16
To establish direct linkages with potential Indian buyers to promote products from Sri Lanka, The Ceylon Chamber of Commerce in association with the Trade Promotion Council of India (TPCI) and the Sri Lanka High Commission in New Delhi organised Sri Lanka's participation for the first time, at the "Indusfood - Tech 2020" Trade Fair, held from 8th to 10th January, 2020 in India to showcase Sri Lanka's processed food and beverage industry. 34 representatives from Small and Medium (SMEs) companies were selected to join the business mission to explore opportunities to establish business linkages.
Read more...
Tuesday, 14 January 2020 12:23
Sri Lanka Tourism Promotion Bureau showcased Sri Lanka's travel, tourism and hospitality industry at SATTE 2020 held in India.
Sri Lanka Tourism Promotion Bureau, in association with the High Commission of Sri Lanka in New Delhi organized Sri Lanka's national pavilion at the SATTE 2020, South Asia's leading B2B Travel & Tourism event, held from 08-10 January 2020 at India Expo Mart, Greater Noida in India.
Read more...
Friday, 10 January 2020 12:44
Minister of Foreign Relations, Dinesh Gunawardena, undertaking his first official visit overseas since assumption of office, visited India from 9-10 January 2020 at the invitation of the Minister of External Affairs of India.
The visit was part of the high-level exchanges that took place following the recent Presidential elections in Sri Lanka, and a follow up to the State visit of President Gotabaya Rajapaksa to India in November 2019.
Read more...
Friday, 20 December 2019 07:44
Sri Lanka promoted a range of value added items including herbal personal care products, craft products, value added coconut products, value added handmade stoneware, floral arrangements, green vanilla, lace and embroidery items, spices, electronic security solutions at the India International Mega Trade Fair (IIMTF) being held at the Science City in Kolkata, West Bengal from 13 -23 December 2019. Sri Lanka's national participation was organized by the High Commission of Sri Lanka in New Delhi in association with the Sri Lanka Export Development Board.
Read more...
Saturday, 30 November 2019 03:51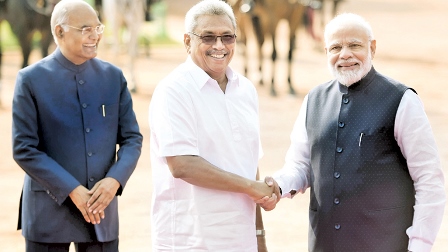 Ayubowan, Namaste,
I am very happy to be here just eleven days after assuming office as the President of Sri Lanka. In fact, this is my first official visit abroad.
Prime Minister Modi and I discussed several important issues this morning. The discussions were extremely cordial and reassuring. Among these, co-operation in regard to security of our two countries took priority. India has always assisted Sri Lanka to enhance our capabilities in intelligence, and counter-terrorism, and we look forward to continued support in this regard.
Read more...
Page 12 of 88