Wednesday, 12 February 2014 13:45
The Sri Lanka Navy Dance Troupe joined dancers from Egypt and Manipur and drummers, musicians and singers from Rajasthan and Colombia to usher in the Delhi International Arts Festival 2014 at the historic site of Delhi's Purana Qila (Old Fort) on Sunday 8 February evening. The Sri Lankan troupe performed a medley of traditional dances including fire and mask dances which enthralled the audience comprising an array of artistes, government officials, foreign diplomats and media personnel. The Chief Guest on the occasion, Minister of Human Resource Development of India Pallam Raju felicitated the Troupe.
Read more...
Wednesday, 12 February 2014 00:19
High Commissioner Prasad Kariyawasam, joined by the staff of the Sri Lanka High Commission in India, offered alms to Buddhist priests representing the Sri Lankan Buddhist temples located in India on the morning of 4 February, commencing day-long celebrations of the 66th Independence and National Day of Sri Lanka in New Delhi. The alms-giving held at the High Commissioner's Residence was followed by a Ceremony involving Sri Lankan expatriates in New Delhi at which High Commissioner Kariyawasam hoisted the National Flag to the accompaniment of ceremonial drums (magul bera) played by traditionally attired drummers of the Sri Lanka Navy Cultural Troupe. The solemn early morning ceremony included the reading of the 66th Independence Day Message of President Mahinda Rajapaksa. Addressing the Sri Lankan community in New Delhi, High Commissioner Kariyawasam stressed the important role that each of them plays in strengthening relations at the people-to-people level which is an important component of the India-Sri Lanka relationship.
Read more...
Saturday, 08 February 2014 06:06
The renowned annual Surajkund Mela organised annually by the Surajkund Mela Authority under the aegis of
the Haryana state Tourism Ministry and the Indian Union Ministries of Tourism, Textiles and Culture is being held this year from 1-15 February. The mega fair showcases the finest handlooms and handicrafts of India and draws award winning artisans from all over the country who showcase and sell their products. The fair features different cuisines and is also a platform for performing arts including folk theatre from

different parts of the country.
Read more...
Friday, 31 January 2014 14:00
Sri Lanka Tourism Board, together with 12 co-exhibitors from the private sector, assisted by the Sri Lanka High Commission in New Delhi, participated at the SATTE-2014 Travel and Tourism Exhibition in New Delhi held at Pragati Maidan from 29th to 31st January 2014.
Read more...
Thursday, 30 January 2014 13:43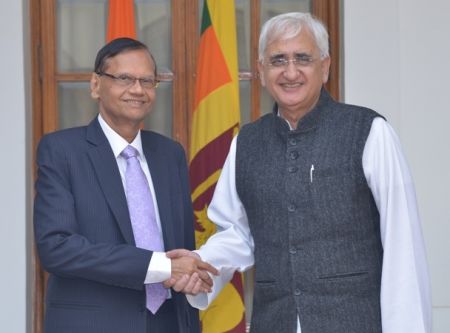 Professor G.L. Peiris, Minister of External Affairs, and Mr. Salman Khurshid, Minister of External Affairs of India, held bilateral discussions on Wednesday at the Ministry of External Affairs in New Delhi.
These were wide ranging discussions covering all aspects of the bilateral relationship.
Page 9 of 50