Monday, 28 January 2019 04:16
Sri Lankan government has said that people to people contacts between India and Sri Lanka has increased considerably in past few years.
Sri Lankan minister for Highways and petroleum development Kabir Hashim said that Indians constitute the largest number of tourists visiting Sri Lanka. He said, increased connectivity between the two neighbours has made it possible.
Read more...
Friday, 25 January 2019 05:37
His Excellency Armen Martirosyan, Ambassador of Armenia paid a courtesy call on High Commissioner Austin Fernando at the High Commission of Sri Lanka in New Delhi on 23rd January 2019, prior to his visit to Sri Lanka to attend the 71st Independence Day Celebrations in Colombo. Their discussions focused on matters of mutual interest and further enhancing bilateral relations between Sri Lanka and Armenia.
Read more...
Friday, 25 January 2019 05:31
His Excellency Sekou Kasse Ambassador of the Republic of Mali paid a courtesy call to High commissioner Austin Fernando today, 24 January 2019 at the High Commission. Ambassador of Mali made this call prior to his visit to Sri Lanka for Presentation of Credentials to the President of Sri Lanka, on 1st February 2019. During the meeting Ambassador Kasse appreciated the role that is being played by the UN Peace Keeping Forces deployed in Mali. Furthermore, the two dignitaries discussed the political developments in Sri Lanka and Mali.
Diplomatic Relations between Sri Lanka and Mali were established on 19th January 2012. Sri Lanka and Mali has been supporting each other's candidatures in multilateral fora.
Thursday, 24 January 2019 12:43
Her Excellency Jainaba Jagne, High Commissioner of Gambia paid a courtesy call on High Commissioner Austin Fernando, 23rd January 2019, at the Sri Lanka High Commission to discuss and explore the possibility of establishing bilateral relations with Sri Lanka. High Commissioner briefed the Ambassador of Gambia the process that is required to establish diplomatic relations with Gambia.
Thursday, 24 January 2019 11:24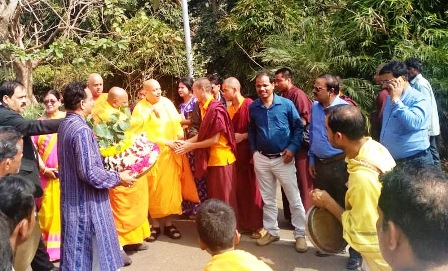 The iconic Bodhi sapling which symbolises the birth of Buddhism was planted Wednesday here at Dhauligiri. Buddhists from Sri Lanka planted the Bodhi plant brought from their country. A large number of Buddhist monks including Srinivas Nayak Mahathera from Sri Lanka and Raghunath Mohapatra of Odisha were present during the plantation ceremony. Earlier this week, the Buddhist monks from Anuradhapura, Sri Lanka arrived at the capital city. The saplings would be planted at Buddhist sites in the state like Ratnagiri, Lalitgiri and Dhaulagiri January 22 to 23. Mahathera is a member of the Centre of Theravada Buddhism. Incidentally Mahathera is an honorific term in Pali for senior bhikkhus and bhikkhunis (Buddhist monks and nuns) in the Buddhist monastic order.
Page 9 of 73