Wednesday, 24 January 2018 13:31
State Minister for Foreign Affairs , Vasantha Senanayake was a panelist at the discussion on 'Towards a Bay of Bengal Community: Development, Growth & Security'. The panel was moderated by Baijayant Panda, Member of Parliament of India, and other speakers included Preeti Saran, Secretary, (East), Ministry of External Affairs, and Shankar Das Bairagi, Foreign Secretary, Nepal.
Opening the Panel Discussion Bhaijant Panda noted that BIMSTEC serves as a bridge between SAARC & ASEAN nations. It is a platform to fulfill key foreign policy objectives. The growth rate of the BIMSTEC nations are 6%. These nations constitute 2.6% of global trade.
In his opening remarks Minister Vasantha Senanayake stated that the Bay of Bangal region is the least integrated regions in the world and that BIMSTEC has the potential to pool in strengths from both South and Southeast Asia. He further said that as much as we have become competitive in the asian century, we need physical connectivity, institutional connectivity, information connectivity and trade and investment facilitators to integrated each group in the bay of Bengal region. He stressed that there are both security and non security threats in the region that has to be addressed through a strategic framework. India can play a vital role in to succeed in this task by spearheading its role to take BIMSTEC forward. Freedom of navigation & rule based order is in the long term interest of the region. This can facilitate the stability and security cooperation between BIMSTEC and with IORA & IMO.
The Foreign Secretary of Nepal said that, BIMSTEC has great potential to realise high growth trajectory of the region and contribute towards an 'asian century'. Key areas of priorities include trade, energy and security. Connectivity is at the core of BIMSTEC and investment, trade, infrastructure, people to people connectivity should be a priority. The pace of cooperation has unfortunately not been satisfactory. Some barriers has restricted regional integration. BIMSTEC connects India's neighbourhood policy with act east policy. It is a focal point of India's foreign and economic outreach strategy. India wants to include its neighbours in its growth story. Therefore, India remains committed to BIMSTEC.
Minister Senanayake responding to a question raised by the audience noted that the main difficulty is that each country is at different stage of economic growth. The need is to think of BIMSTEC beyond borders. BIMSTEC should emulate the ASEAN model of betterment of the entire member countries and India needs to play a greater role.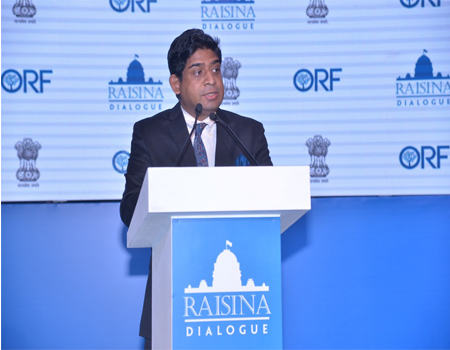 Wednesday, 24 January 2018 13:09
The Minister of Foreign Affairs, Tilak Marapana attended the 4th International Dharma-Dhamma Conference on "State and Social Order in Dharma-Dhamma Traditions" which was held in Rajgir, Bihar in India from 11th – 13th January 2018. The President of India, Shri Ram Nath Kovind inaugurated the Conference.
Speaking at the Conference Minister Marapana stated that the Buddhist concept of rule of law & good governance are depicted in "Dasa Raja Dharma" in which Lord Buddha preaches to Kings to rule in a fair manner and be concerned of the welfare of their communities. He further noted in his speech that, the Ten Virtues according to Buddhist ideals of good governance are as follows;
Generosity, morality, liberality, openness, gentleness, self restraints, no anger, non violence, patience and non-competitiveness.
The Conference was organised by the Nalanda University, in collaboration with the Centre for Study of Religion and Society, India Foundation, Ministry of External Affairs and the Vietnam Buddhist University. This Conference was further organised as part of the commemorative events to celebrate the Silver Jubilee year of ASEAN-India Dialogue Partnership, with support of the Union Ministry of External Affairs. Bihar Governor Satya Pal Malik, CM Nitish Kumar, and Kingdom of Thailand's Minister for Culture Vira Rojpojchanarat, among others, attended the conference.
Wednesday, 24 January 2018 12:52
The Government of Sri Lanka signed a Line of Credit amounting to USD 45.27 million for financing the Rehabilitation of KKS Harbour. This project will be implemented by the Sri Lanka Port Authority under the supervision of the Ministry of Ports and Shipping. Under this project the Rehabilitation of Breakwater and Additional pier/s for commercial Cargo handling and infrastructure facilities will be developed. The proposed credit line will be provided by the Government of India through Export Import Bank of India (EXIM Bank).
During the last few years Indian foreign direct investment in Sri Lanka has expanded exponentially. Presently, Indian development assistance mainly focuses on improvement of economic infrastructural facilities, livelihood development, education, healthcare, capacity building and economic renewal of Sri Lanka. Previously, both governments linked a Line of Credit (LOC) of USD 318 million for the development of the railway sector in Sri Lanka in June 2017
Thursday, 18 January 2018 13:12
5th India - Sri Lanka Annual Defence Dialogue
The fifth India-Sri Lanka Defence Dialogue was held in New Delhi, India on the 09th (January 2018).The Sri Lankan delegation was led by the Secretary to the Ministry of Defence Mr.Kapila Waidyaratne PC and the Commander of the Army, Lieutenant General Mahesh Senanayake, Additional Secretary (Defence) of the Ministry of Defence, Mr. RMS Sarath Kumara, Director General of South Asian and SAARC Division of the Ministry of Foreign Affairs, Mr. MAK Girihagama, Chief of Staff of Air Force, Air Vice Marshal GLS Dias, Director General Operation of Sri Lanka Navy, Rear Admiral Piyal De Silva, Director General of Sri Lanka Coast Guard, Rear Admiral Samantha Wimalatunga Major General GLJ Waduge and Defence Adviser of the Sri Lanka High Commission In Delhi Captain Suresh De Silva.
The ten member delegation, led by the Indian Defence Secretary, Shri Sanjay Mitra included high ranking Indian Defence Ministry and Foreign Ministry officials, senior Army, Navy, Air Force and Coast Guard officers joined the meeting from the Indian side.
Since 2012, the annual India Sri Lanka Defence Dialogue reviews a range of areas within the defence cooperation field.
During the visit to India, Secretary Waidyaratne also visited the Goa Shipyard and INS Hansa Naval Base in Goa and INS Garuda in Kochi. He also met the Flag Officer Commanding in Chief of the Southern Naval Area of the Indian Navy. The Secretary also visited the sacred sites at Bodh Gaya.