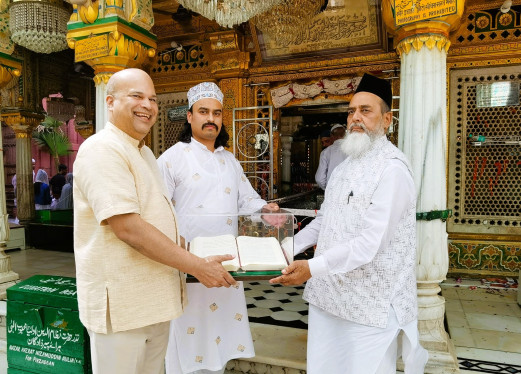 In keeping with its policy of promoting dialogue with all major religions in India, the High Commission of Sri Lanka in New Delhi today (23) presented a Sinhala translation of the Holy Quran to the historical Hazrat Nizamuddin Aulia Dargah of Delhi for permanent display.
Situated in the Nizamuddin West area of Delhi, Nizamuddin Dargah is the mausoleum of the Sufi saint Khwaja Nizamuddin Auliya (1238–1325 CE). The Dargah is visited by thousands of pilgrims every day. The site is also known for its evening qawwali devotional music sessions. The descendants of Nizamuddin Auliya look after the whole management of Dargah.
The impressive Sinhala translation of the Holy Quran, published by the All Ceylon Jamiyyathul Ulama (ACJU) of Sri Lanka, was presented to the Chief of the Dargah Syed Muzammil Nizami this afternoon by Sri Lanka's High Commissioner Milinda Moragoda. The copy of the Holy Quran, fixed inside a transparent display box, was placed at a prominent place in the Dargah.
High Commissioner Moragoda and the accompanying senior officials of the High Commission also paid their respect to the tomb of Saint Khwaja Nizamuddin Auliya.
Previously, High Commissioner Moragoda had presented copies of the Sinhala Quran to the Jama Masjid of Delhi, the Jamiat Ulama-i-Hind (Council of Muslim Theologians of India) as well as to the Ambassadors of Morocco, Bahrain and Saudi Arabia and the High Commissioner of Nigeria in New Delhi.
High Commission of Sri Lanka
New Delhi
23 May 2023