Wednesday, 04 September 2013 05:19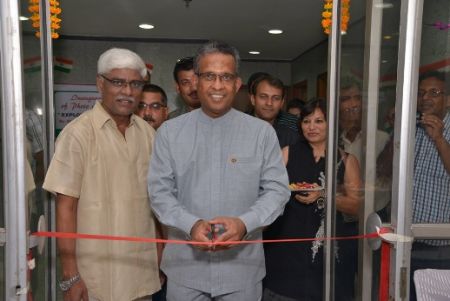 The Indian Media Journalist Union (IMJU) headed by its President Bala Bhaskar organized a photographic exhibition
on Sri Lanka titled "Explore New Lanka" at Aga Khan Hall in New Delhi on 01 September 2013. The Exhibition was

inaugurated by High Commissioner Prasad Kariyawasam.
Read more...
Monday, 19 August 2013 13:33
Minister of External Affairs Prof. G.L. Peiris called on the Prime Minister of India Dr. Manmohan Singh this morning, 19 August in New Delhi.
The discussions between Prime Minister Manmohan Singh and Prof G.L. Peiris included a range of matters such as cooperation with regard to the economy, development and the rehabilitation process. The Minister described the arrangements that are being made for the Commonwealth Heads of Government Meeting (CHOGM) as well as the Business Forum in which there has been considerable interest by the Confederation of Indian Industry and the Federation of Indian Chambers of Commerce and Industry. The Minister handed over to Prime Minister Manmohan Singh, a letter of invitation from President Mahinda Rajapaksa, to attend the Commonwealth Summit and the Minister said that the Government of Sri Lanka looks forward to Prime Minister Singh's participation. The Prime Minister of India requested that the Minister of External Affairs should convey to H.E. the President of Sri Lanka, the thanks of the Indian Prime Minister for deputing Prof. Peiris to hand over the letter of invitation to him.
Read more...
Thursday, 18 July 2013 12:23
President Mahinda Rajapaksa felicitated the Leader of the People's Democratic Party which emerged successful in the General Election held in the Kingdom of Bhutan on 13 July. This was the second national election held in Bhutan.
Read more...
Friday, 12 July 2013 07:34
The 2nd Meeting on Trilateral Cooperation on Maritime Security between India, Sri Lanka and the Maldives was held in Colombo on 8-9 July 2013. National Security Adviser of India Shivshankar Menon visited Sri Lanka on 8-9 July 2013 to represent India at the Meeting.
Read more...
Thursday, 11 July 2013 10:40
On the morning of Sunday 7 July, the sacred Mahabodhi Temple in Bodhgaya in Bihar suffered a series of low intensity blasts. Immediately following the explosions, President Mahinda Rajapaksa issued a statement condemning the attacks. He spoke soon therafter to the Chief Minister of Bihar, Nitish Kumar, and expressed Sri Lanka's solidarity with the peace loving people of Bihar and India, and offered any assistance that may be required.
The people of Sri Lanka share a special bond with the people of Bihar, a state which welcomes over 150,000 Sri Lankan pilgrims every year who visit India to venerate sacred sites that are associated with the life of Gautama Buddha.
Read more...
Page 19 of 56