Thursday, 12 December 2013 00:29
The Ambassador of Sri Lanka to Bhutan, Prasad Kariyawasam, who is in the country to attend the 12th Round Table Meeting called on the Prime Minister Tshering Tobgay yesterday. Lyonchhoen thanked the Ambassador for his contribution in strengthening bilateral relations with Bhutan and expressed his appreciation for the assistance received from Sri Lanka, especially in the field of medical sciences for Bhutanese students. As of this month, 165 Bhutanese students are pursuing different medical courses in Sri Lanka. The ambassador assured Sri Lanka's continued support and friendship to Bhutan. (Courtesy – Kuenselonline, 11 December 2013)
Friday, 29 November 2013 13:11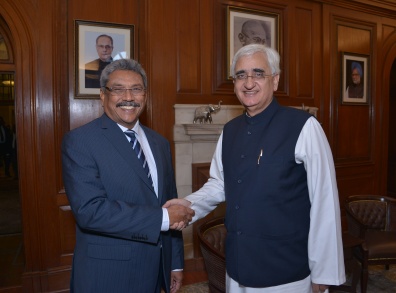 Secretary of the Ministry of Defence and Urban Development of Sri Lanka Gotabaya Rajapaksa who is on a
visit to India called on the External Affairs Minister of India Salman Khurshid at the Ministry of

External Affairs in New Delhi on Friday 29 November.
Monday, 25 November 2013 04:53
Chief of Naval Staff of the Indian Navy, Admiral DK Joshi is scheduled to attend the Galle Dialogue 2013 to be held in the Port City of Galle on 25th and 26thNovember 2013. His graceful participation in the international maritime security conference organized by the Sri Lanka Navy under the aegis of the Ministry of Defence is symbolic of the goodwill between the two friendly Navies and the highest regard accorded to the Sri Lanka's initiative in fostering strategic maritime cooperation in the Indian Ocean.
Read more...
Saturday, 16 November 2013 12:02
The Commonwealth Heads of Government Meeting (CHOGM) is held every two years to enable leaders of Commonwealth countries to come together to discuss global and Commonwealth issues, and to decide on collective policies and initiatives. CHOGM 2013 was inaugurated in Colombo, Sri Lanka, by HRH The Prince of Wales on 15 November.
The theme of this year's CHOGM is "Growth with Equity: Inclusive Development".
Assuming the Chair of CHOGM, H.E. President Mahinda Rajapaksa said: "We believe that this theme has broad relevance to the larger Commonwealth, and highlights the importance of equity in economic development, particularly in view of the existing disparities in the distribution of wealth, and economic benefits. Inclusive development promotes progress and contributes towards achieving Millennium Development Goals."
The full text of the speech of Sri Lanka President Mahinda Rajapaksa at the opening ceremony of CHOGM 2013 :
Read more...
Friday, 11 October 2013 05:58
The Minister of External Affairs of India Salman Khurshid visited Jaffna on 8 October 2013 and met among others, the newly elected Chief Minister C.V. Wigneswaran.
Page 19 of 58