Sunday, 17 October 2010 07:55
External Affairs Minister Prof. G.L. Peiris, having travelled to Delhi to accompany President Mahinda Rajapaksa for the Closing Ceremony of the Commonwealth Games and for the bilateral discussions with the Indian Prime Minister, used the opportunity to also meet with several other senior Indian Government personalities.
On the morning of 14th October, Minister Peiris met with his Indian counterpart, External Affairs Minister S.M. Krishna, for a very cordial and constructive review of bilateral relations. The discussion between the two Ministers served as a curtain raiser to the forthcoming session of the India – Sri Lanka Joint Commission that will take place, when Minister Krishna visits Sri Lanka later this year.
On 15th October, Prof. Peiris called on Mr. P. Chidambaram, Minister of Home Affairs of India. The Home Minister and Prof. Peiris discussed the progress with regard to the programme of 50,000 houses to be built in the formerly conflicted affected areas, through grant funds from India. Minster Peiris briefed that the allocation of State lands for the construction of 1,000 houses in a cluster format for the use of widows or single headed families, was well underway. The rest of the programme would relate both to the construction of 32,000 houses on an owner driven basis on private land, as well as to the repair of 17,000 damaged houses.
Read more...
Wednesday, 13 October 2010 10:43
President Mahinda Rajapaksa has been invited to attend the Closing Ceremony, as an Honored Guest, on 14th October, of the Commonwealth Games that are at present underway in New Delhi. While he is in New Delhi, President Rajapaksa will also have bilateral discussions with the Prime Minister of India, Dr. Manmohan Singh.
Minister of External Affairs, Prof. G. L. Peiris will accompany President Mahinda Rajapaksa on the visit to New Delhi.

Minister Peiris will use his presence in New Delhi to hold discussions with several senior members of the Indian Cabinet including the External Affairs Minister, Shri. S. M. Krishna, Minister of Home Affairs, Shri P. Chidambaram, Minister of Overseas Indian Affairs, Shri. Vayalar Ravi, Minister of Commerce and Industry, Shri. Anand Sharma and the Minister of Human Resource Development, Shri. Kapil Sibal. Prof. Peiris is also due to deliver the Foundation Day Address of the Observer Research Foundation (ORF) in New Delhi, on 15th October 2010.
Thursday, 07 October 2010 08:53
Minister of Sports C B Ratnayake who is currently in India to attend the Commonwealth Games met Minster of Youth Affairs and Sports of India Dr M S Gill recently. High Commissioner Prasad Kariyawasam and officials of the Ministry of Sports also attended the meeting.
Minister Gill at the outset said he was happy to see a good contingent from Sri Lanka for the Commonwealth Games and extended his best wishes for its success. In order to enhance contacts among the youth of the two nations, he expressed the interest to have a youth exchange programme with Sri Lanka. India already has such programmes with a number of other countries. He informed that the Sports Authority of India is a very strong organization with which Sri Lanka could closely collaborate. Minister Gill indicated that Sri Lankans could also benefit from the Sports University of India which offers both undergraduate and post graduate degrees in Sports.
Minister Ratnayake congratulated India for the successful Opening Ceremony of the Commonwealth Games and said that Sri Lanka is proud of India's success. The Ministry of Sports of Sri Lanka looks forward to have a greater cooperation with India. He requested India's assistance in several fields. It was agreed that a team of officials from both countries would visit each other soon to identify areas of collaboration.
Tuesday, 05 October 2010 12:48
The Nineteenth Commonwealth Games began at the Jawaharlal Nehru Stadium in New Delhi on 3 October 2010 in a colourful and spectacular Opening Ceremony. The Games were declared open by Prince Charles of Britain and President Pratibha Patil of India. Minister of Sports C B Ratnayake represented the Government of Sri Lanka at the Opening Ceremony.
Ninety four sportspersons from Sri Lanka representing fourteen 14 sports are amongst over 7000 athletes participating in this Game. Minister Ratnayake accompanied by the High Commissioner Prasad Kariyawasam visited the Games Village on 5 October to meet and encourage the Sri Lankan sportspersons. Minister Ratnayake also participated at the Fifth Commonwealth Sports Ministers' Meeting that was held in New Delhi on the sidelines of the Commonwealth Games.
The Government and other well-wishers in India are conducting several events to celebrate the spirit of the Commonwealth Games and cultural events to showcase India and participating Commonwealth nations as well. The renowned Chitrasena Vajira dance troupe of Sri Lanka has been invited by Indian authorities to perform at one such event 'International Festival of Dance and Music' at Dilli Haat, Pitampura, New Delhi.
Wednesday, 29 September 2010 03:42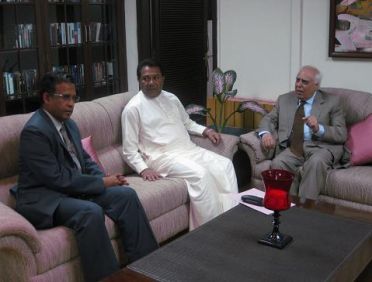 Minister of Higher Education S.B. Dissanayake who is on an official visit to India met on 28 September the Minister of Human Resource Development of India Kapil Sibal. High Commissioner Prasad Kariyawasam was also associated at the meeting.

The two Ministers discussed during their meeting bilateral cooperation in the education sector. Minister Dissanayake explained to Minister Sibal of the steps being taken by the Government of Sri Lanka for the modernization of higher education system in Sri Lanka.

He disclosed that beginning from 2012 the Government of Sri Lanka will offer 200 scholarships to students from Asia to study in Universities in Sri Lanka and about 40% of these scholarships would be granted to Indian students in promoting student exchange.

Stressing the need to revive the education facilities in the North and the East which were affected due to terrorism, Minister Dissanayake sought Indian assistance to set up a faculty of Engineering and to augment the Faculty of Agriculture at the University of Jaffna. He also explored the possibility of getting prominent Indian Professors and Senior Lecturers to undertake teaching assignments at Sri Lankan Universities during their sabbatical leave. The two Ministers also discussed the possibility of training opportunities for Sri Lankan University lecturers in India.

With a view to agreeing on the proposed Programme of Action, Minister Dissanayake extended an invitation to Minister Sibal to visit Sri Lanka at a mutually convenient date later in the year.
Page 63 of 76