The Governments of Sri Lanka and Burkina Faso, with the aim of strengthening and developing mutually beneficial relations between the two countries, established formal diplomatic relations yesterday, 16 November 2012, in terms of the Vienna Convention of Diplomatic Relations of 18 April 1961.
Formal diplomatic relations between the two countries were established with the signing of the Memorandum of Understanding towards this end in New Delhi by High Commissioner Prasad Kariyawasam on behalf of Sri Lanka and Ambassador Idriss Raoua Ouedraogo on behalf of Burkina Faso.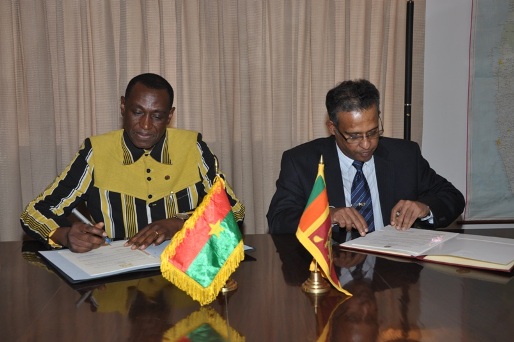 The formalisation of diplomatic ties will enable the accreditation of Ambassadors to the respective capitals of the two countries and enhance existing relations in the political, economic, social and cultural spheres for the mutual benefit and wellbeing of the peoples of the two countries.
People-to-people, trade and other contacts that hitherto existed between the two countries including in multilateral fora will be further strengthened with the formalisation of ties.
Sri Lanka High Commission, New Delhi
16 November 2012