The Representative Office of Sri Lanka, then known as Ceylon, was established in New Delhi, India, in 1942. Sir D B Jayathilake was the first Representative of Ceylon to India.
Diplomatic relations between the two countries were established in 1948, after the independence of Sri Lanka and the Representative Office was re-established as a fully fledged High Commission.
One of the earliest signatories to a lease in perpetuity, the High Commission for Sri Lanka acquired its site on the north-western periphery of Chanakyapuri from the Government of India on the 17thof November, 1953, and is neighbour to the Embassies of Indonesia and China.
The foundation stone was laid by the world's first woman prime minister, Sirimavo Bandaranaike, during her symbolic inaugural voyage, to India, as head of government, in 1960. The High Commission, completed in the mid 1960s, is a white-washed ensemble consisting of a three-storied Chancery building, an adjoining double-storied High Commissioner's Residence and multi-unit officers' accommodation, set back from Kautilya Marg in 3.917 acres of meticulously maintained lawns. While contemporary in design, the buildings incorporate several historical Sri Lankan ornamental elements from the world heritage sites in Anuradhapura, Polonnaruwa, Sigiriya and Kandy.
In New Delhi, Sri Lanka has built the epitome of a diplomatic mission, uniting Chancery, Residence, and officers' accommodation in a group of buildings extolling the country's unique national identity, while highlighting its shared cultural heritage with India.
The High Commission is located at:
27, Kautilya Marg,
Chanakyapuri,
New Delhi 110021.
Tel :+91 011 2301 0201-3
Fax:+91 011 2379 3604
Email: slhc.newdelhi@mfa.gov.lk
Working Hours : Monday to Friday from 8.45 a.m. to 5.00 p.m.
Deputy High Commission of Sri Lanka in Chennai, Tamil Nadu
The Deputy High Commission of Sri Lanka in Chennai is headed by Dr. D. Venkateshwaran, Deputy High Commissioner, and contact details are as follows;
Office Address
Deputy High Commission of the Democratic Socialist Republic of Sri Lanka
56, Sterling Road, Nungambakkam
Chennai 600 034. India
Office Telephone Numbers
0091 44 28241896
0091 44 28252612
0091 44 28241047
Fax Nos. 0091 44 28241894/28254242
E-mail: sldehico@md3.vsnl.net.in
Web: www.sldhcchennai.org
Office working days and working hours Monday to Friday 9.00a.m to 5.15p.m
Consulate General of Sri Lanka in Mumbai
The Consulate General of Sri Lanka is headed by Dr. Valsan Vethody, Consul General and contact details are as follows:
Office Address
Consulate General of Sri Lanka
34, Homi Mdi Street,
Mumbai-400 001,
India
Office Telephone Numbers: 0091-22-22045861/22048303
Fax No: 0091-22-22876132
E-mail: slcon@mtnl.net.in
Web: www.mumbai.mission.gov.lk
Office working days and working hours Monday to Friday 9.00a.m to 4.45p.m
Exterior view: The Chancery (right) is connected to the two-storied Residence (left) by a multi-windowed, enclosed elevated walkway.
Exterior view: The seldom-seen eastern façade of the Chancery features magnificent carved sandstone columns and a stone sun-shade screen by large glass panes. The columns are borrowed from building traditions of the 3rdcentury B.C. city, Anuradhapura. A parade of black elephant heads skirts the lower south side of the building.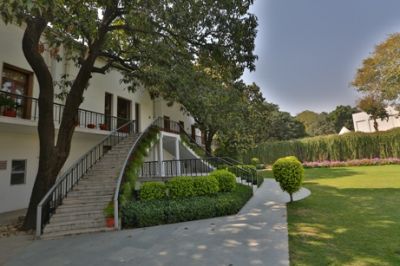 An exterior double staircase descends from the upper level of the Residence to the perfectly manicured back lawns.
The Entry Hall in the Residence: The double curved inner staircase forms the focal point of the 6-metre-high entrance hall. The orange-brown carpeting calls to mind the laterite soil seen in parts of Sri Lanka, and blends perfectly with the hardwood bannister.
A replica of an ancient mural found in Sigiriya (5th Century) hangs in the formal Dining Hall
The large formal reception room, where French windows and parquet flooring, laid in a herring-bone pattern, are prominent features.