The debating team of the University of Colombo won the debate on "In Tagore's philosophy of education aesthetic development is as important as the intellectual" held at the International Relations Department of the University of Delhi on January 21. Thakshala Tissera of the Department of English in Colombo University was adjudged the best debater. This was the second debate in the series was organized by the India Sri Lanka Foundation and the Culture Council of the University of Delhi.
The Team from University of Colombo, Sri Lanka comprises of Deborah M. Phillip, Mohamed Hafiz Zainuddin and Thakshala Tissera and the Delhi University was represented by Subha Rastha, Akash Kashyap and Raghuvir Dass.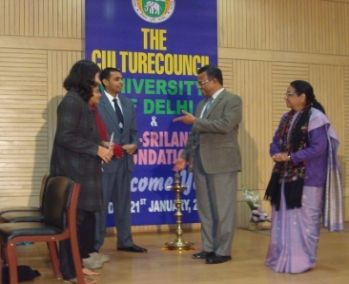 Sri Lanka High Commissioner Prasad Kariyawasam, who is the co-chair of India Sri Lanka Foundation was the Chief Guest. Two professors of University of Delhi and a scholar of the Rabindranath Tagore Society were on the panel of judges.
High Commissioner Kariyawasam stated that the objective of the India-Sri Lanka Foundation in supporting this debate between universities of India and Sri Lanka was to promote contacts between the youth of the two nations. He said that the philosophy of Gurudev Rabindranath Tagore has succeeded in reawakening the age old cultural ethos not only in India, but in Sri Lanka as well. He commended organizers for selecting Tagore's philosophy of education as the theme of the debate as this year the world commemorates his 150th birth anniversary.
The inaugural debate was organized by the University of Colombo during December 2009 with the students of the University of Delhi. A team of 3 students and a faculty member from University of Delhi participated in the programme.
Under the second phase of the debate, the Board has planned to involve the University of Ruhuna in Sri Lanka and the University of Chennai from India.