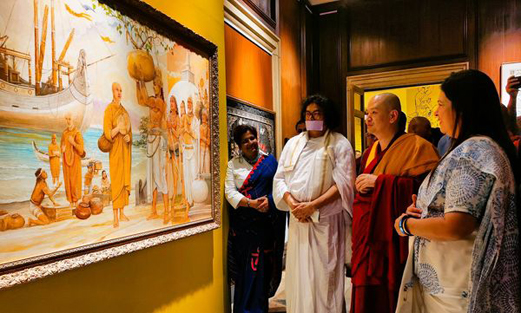 The High Commission of Sri Lanka in India collaborated with the National Gallery of Modern Art (NGMA) in New Delhi on an exhibition of Buddhist art held at the Gallery to mark the month of Vesak. The month-long exhibition of Buddhist art titled Buddham Saranam Gachchami was ceremonially inaugurated by the State Minister of External Affairs and Culture of India Smt. Meenakshi Lekhi yesterday (10).
The exhibition features a NGMA-owned collection of Buddhist art by eminent Indian painters including the legendary Nandalal Bose, and paintings loaned by the High Commission of Sri Lanka and the Embassy of Myanmar in New Delhi.
The High Commission has loaned the painting Maha Bo by the prominent contemporary Sri Lankan artist Prasanna Weerakkody to the exhibition. This large painting, which had been commissioned in 2012 by the then High Commissioner of Sri Lanka Prasad Kariyawasam to commemorate the 2600th Sambuddhatva Jayanti and unveiled by the then Leader of Opposition of the Lok Sabha Smt. Sushma Swaraj, is part of the High Commission's art collection. Maha Bo depicts Emperor Asoka requesting his son Arahat Mahinda to set off to Sri Lanka from Sanchi in Vidisha with the message of Buddhism, and Theri Sanghamitta and the sapling of the sacred Bodhi tree being received by King Devanampiyatissa in Anuradhapura.
The Sri Lankan painting, which is displayed at a prominent location of the exhibition gallery, attracted a large number of visitors on the opening day.
The two historical events depicted in the painting mark the commencement of a Buddhist civilization in Sri Lanka and epitomize the strong and unbreakable civilizational bonds that exist between Sri Lanka and India.
Previously in April this year, as part of the ongoing programme to mark the 75th anniversary of the establishment of Indo-Lanka diplomatic relations, photographs of two murals painted by the eminent Sri Lankan painter Solias Mendis in the Kelaniya Rajamaha Vihara depicting these two historical events were unveiled at the office of State Minister Meenakshi Lekhi.
In October 2021, the High Commission of Sri Lanka in New Delhi presented two photographs depicting the same murals, to be installed at the newly inaugurated international airport in Kushinagar. Similar photographs were installed at the Rashtriya Swayamsevak Sangh (RSS) Headquarters in Nagpur in February 2022, and at the Ahmedabad International Airport in July 2022.
As part of the programme to celebrate the 75th anniversary of Indo-Lanka diplomatic relations, action has also been initiated to install similar photographs at other locations in India, including at the international airports in Buddha Gaya and Varanasi as well as the Chetiyagiri Vihara in Sanchi shortly, enhancing Sri Lanka's cultural footprint at the level of the States of the Union of India.
High Commission of Sri Lanka
New Delhi
11 May 2023