Thursday, 12 January 2023 11:13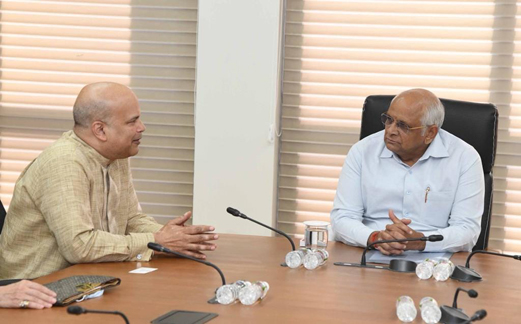 Sri Lanka's High Commissioner to India Milinda Moragoda who is on a three day official visit to the State of Gujarat met with the Governor and the Chief Minister of the State.
High Commissioner Moragoda's meeting with the Gujarat Chief Minister Shri Bhupendra Patel was held on 11 January at the Chief Minister's office in Gandhinagar. At the outset, the High Commissioner congratulated the Chief Minister on his resounding victory at the recently concluded assembly elections in Gujarat. The discussion focused on the interactions between the State of Gujarat and Sri Lanka in multiple spheres and particularly in tourism sector. The importance of promoting the Ramayana trail in Sri Lanka among Gujarati tourists and the Gujarat Buddhist Trail among Sri Lankan pilgrims was also discussed. High Commissioner Moragoda recalled how Sri Lanka and the State of Gujarat signed an MoU on tourism cooperation in 2009 when he was the Minister of Tourism and the Present Prime Minister of India Shri Narendra Modi was the Chief Minister of Gujarat. The ways and means to further enhance economic activities and people to people contacts between Sri Lanka and Gujarat was discussed. High Commissioner Moragoda invited Chief Minister Patel to undertake a visit to Sri Lanka at a mutual convenient time.
High Commissioner Moragoda met with the Governor of the State of Gujarat Shri Acharya Devvrat on 12 January at the Raj Bhavan in Gandhinagar. The Governor extended a warm welcome to the High Commissioner and the discussion was held in a very cordial manner. The discussion focused on the relations between Sri Lanka and Gujarat. Governor Devvrat is a practitioner of natural farming, and the High Commissioner sought his cooperation in imparting technical knowhow to Sri Lanka in this method of farming. The Governor agreed to extend cooperation and invited High Commissioner Moragoda to visit his 200 acre natural farm in Kurukshetra, Haryana. High Commissioner Moragoda briefed the Governor about Sri Lanka's decision to appoint a Honorary Consul in Ahmedabad to cover the State of Gujarat. The High Commissioner also invited Governor Devvrat to visit Sri Lanka.
High Commissioner Moragoda was accompanied to these meetings by Deputy High Commissioner Niluka Kadurugamuwa and Minister Counsellor of the High Commission of Sri Lanka in New Delhi Gamini Sarath Godakanda.
High Commission of Sri Lanka
New Delhi
12 January 2023