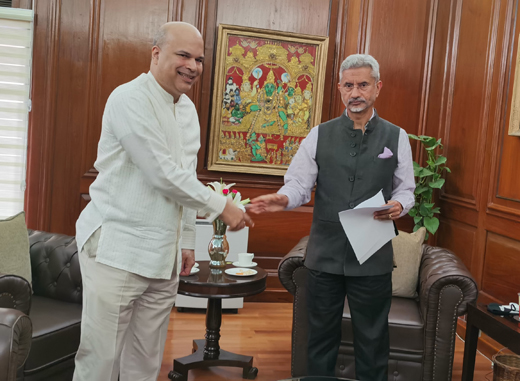 Sri Lanka's High Commissioner to India, Milinda Moragoda met with the External Affairs Minister of India Dr. S. Jaishankar today (20) to discuss the way forward with regard to the Indian assistance in stabilizing and recovering the ailing Sri Lankan economy.
At the outset, High Commissioner Moragoda briefed Minister Jaishankar on the present developments in Sri Lanka and thanked him for his personal involvement in continuing the assistance that India has extended to Sri Lanka in the form of credits for essential commodities and fuel, as well as balance of payment support, as bridging finance until an IMF programme would be in place.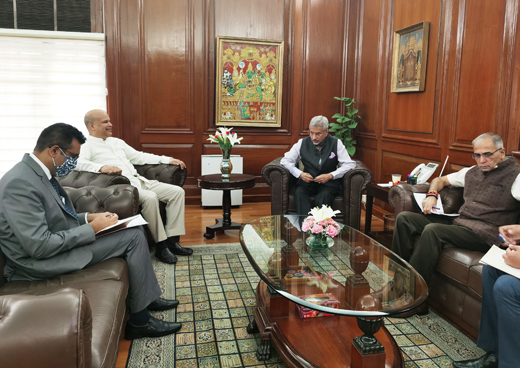 He also appreciated India taking up the case of Sri Lanka with the IMF, other multilateral institutions and bilateral development partners.
Minister Jaishankar assured the High Commissioner of the support of India to look into the ways and means of stabilizing and recovering the Sri Lankan economy, including through tourism and investments. In this regard, the External Affairs Minister requested the High Commissioner to remain in contact.
Foreign Secretary of India Shri Vinay Kwatra as well as senior officials of the Ministry of External Affairs of India and the High Commission of Sri Lanka in New Delhi also participated in the meeting.
External Affairs Minister Jaishankar had chaired a Parliamentary Consultative Committee meeting on Saturday (18) on the situation in Sri Lanka where unanimous support on the need to stand with Sri Lanka in this difficult time had been expressed.

High Commission of Sri Lanka
New Delhi
20 June 2022